Concept and Introduction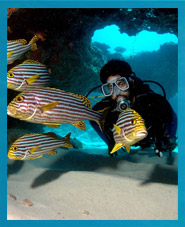 What does it mean to be on holiday? What is the definition of a vacation? Since time immemorial, along with the scrapes and bustle of life, man has ever felt the need to unwind and relax. To leave everything behind and clear the soul and mind. Perhaps this is where the term vacation came from i.e. to "vacate" your life. With the advent of today`s hi-paced lifestyle and I-want-it-first rat race, it is not unknown that the body and mind take a tremendous beating and sustain damage over time. Small wonder then, that the generation of today look to taking time off for leisure and recreation, be it a few hours at the pub, or a few days or even weeks at an exotic locale.

Gone are the days when being on holiday meant curling up on the sofa in front of the television with a cool drink in one hand and the remote control in the other. With the variety of possibilities and myriad of places, people have taken to adventure vacationing in a big way.

How often have you wanted to see an underwater school of fish, or view the forest from a treetop? How many people are there who have not imagined being on a jungle safari or seeing little-viewed ancient arts in life today? Or feeling the breeze through your hair as you scale a thousand foot cliff? The salt in the air as you surf across the waves on a skiff with nothing but water on all sides?

We like to believe there is an adventurer in every one of us. That the spirit of adventure and discovery reigns supreme in the human psyche. It is when we are on a quest to the unknown that we truly find out who we are and what we are made of. And perhaps that is what we call the soul.

With this in mind, we present Extreme Holidays – your guide, your companion, your consort – on the path to your perfect getaway. Its not just about where you go and what you do. Its about what you bring back. And maybe, get some memories to last a lifetime.

With years of research and countless visits to exotic destinations, Extreme Holidays is proud to bring you a range of beautiful and exotic locales and lots of adventure sports and fun activities you always wanted to do but never knew how and where.
Just some of the activities we provide are Scuba Diving, Trekking, Water Sports, Jungle Safaris and much more. Have a look into what's in store for you. Or if you want more detailed explanations, just come on over to our office for a personal chat. We`d love to help you out!

OUR VISION
Creating a experience of a lifetime, we find ourselves breaching unknown territories and canvassing unseen landscapes. Merging adventure with adrenalin, we strive to chart a trail which beckons others to follow. We see ourselves as the start of a new kind of escape from everyday life, a pioneer in the budding industry of adventure holidays.
Mission Statement
We aim to be the trailblazer on a path where none exists, to go places where none have gone, beat paths where none have tread and above all, keep the spirit of adventure alive.
OUR VALUES
Our values represent our company, our brand and our people.
DIVERSITY : Our strength lies in the qualities and diversity of our people
CREATIVITY : Our hunger for creative and commercial success means that we constantly strive for improvement
ADVENTURE : Our people share a sense of adventure ad thirst for knowledge
PASSION : We share a full-blooded passion for our work which means we will always go the extra mile in the pursuit of excellence
We create a strong relationship built on total confidence in the quality of our work, the honesty of our opinions and the effectiveness of our ideas